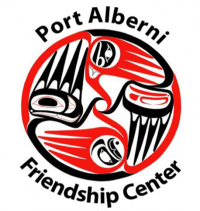 3555 4th Avenue North , Port Alberni, British Columbia V9Y 4H3, Canada
Service Type
Advocacy, Counselling, Friendship Centre, Social Services
See an error or need to update a listing? Want to add your organization to the map?
Please email us at
[email protected]
The services presently provided at our centre are counselling, recreation programs, youth employment training program, Outreach Legal Advocacy Program, some public health services, social events, crafts and cultural events, with a general drop-in atmosphere. We are focused on improving the health and well-being of family, youth, children and elders using a strength-based approach.
PAFC - Addictions and Mental Health Counselling
Funded by Island Health, the mental health and addictions program continues to provide quality counselling services to members of the Port Alberni and surrounding communities. The program is available to all members of the community and strives to meet their needs in a friendly, compassionate and professional manner.
PAFC - Outreach Legal Advocate
The primary goal of this program is to ensure quality service delivery of legal advocacy for anyone needing assistance. If we can't help you with your legal issue, we will support you in connecting with the local Legal Aid office.